Nitrux is made with by people like you.
Nitrux is a Linux desktop distribution directly based on Debian. It uses the Calamares installer and includes NX Desktop and NX Firewall on top of the KDE Plasma 5 desktop environment and KDE Applications. Nitrux utilizes the Debian package manager (dpkg) and its extended set of tools APT (Advanced Packaging Tool) to manage the operating system and manage the software. Nitrux supports both Legacy BIOS and EFI 64-bit computers only, there's no support for 32-bit.
What could I use Nitrux for?
Well — just about anything! It can perform many functions that any computer could use. Surf the internet, word process, email, spreadsheets, listen to music, watch movies, chat, games, photo editing, content creation, whatever you want!.
https://nxos.org/english/nxd/

We extend Plasma to allow the user to glance over system operations with easy to understand status displayed on the screen. NX Desktop is our set of applied customizations to the Plasma 5 Desktop. It includes new plasmoids (or widgets) and a new look and feel package (wallpapers, Plasma themes, Konsole theme and profile, Aurorae themes, SDDM themes, cursors, and color-schemes).
**NX Desktop is not a desktop environment. NX Desktop does not provide a file manager, web browser, multimedia player, email client, address book, PDF reader, photo manager, and system preferences application.
Renewed System Tray
The System Tray replaces the traditional Plasma version.
Notification Center
For easy access to your notifications, the System Tray features an area specifically for them.
Quick access to networks
Easily access and edit your network preferences.
Easy multimedia controls
Combining the volume controls and the media controls of Plasma for simpler operation.
Everything you need to get started.
Nitrux is a complete Operating System that ships the essential apps and services for daily use: office applications, PDF reader, image editor,
music and video players, etc. Nitrux ships with select KDE Applications by default along with our own custom applications. KDE Applications are a set
of applications and supporting libraries that are designed for KDE Plasma 5. We also include non-KDE or Qt applications like Firefox and LibreOffice
that together create a friendly user experience.
Available out-of-the-box
Nitrux includes a selection of applications carefully picked to perform the best when using your computer:
Built with MauiKit
Index, the file manager.
Nota, a simple text editor.
Station, the terminal emulator.
Pix, an image gallery.
VVave, music player.
Buho, a note-taking application.
Contacts, an application to manage contacts.
A great selection of Open Source software
Ark, archiving tool.
KCalc, calculator.
qps, system task manager.
Spectacle, screenshot utility.
Latte, versatile dock application.
qpdfview, simple and light PDF viewer.
Kvantum Manager, GUI application to manage and configure Kvantum SVG themes.
Firefox, ethical web browser.
mpv, multimedia player.
LibreOffice, open-source office suite.
Inkscape, vector graphic editor.
GIMP, GNU image manipulation tool.
LMMS, free, open-source, multiplatform digital audio workstation.
A free and modular front-end framework.
https://mauikit.org/

A set of templated controls and tools based on QQC2 and Kirigami shared among the Maui set of applications. MauiKit helps to quickly build UIs that follow the Maui HIG and bring ready to go tools for different platforms, such as Android and Linux. Seamless transition between mobile and desktop technology — where the line between desktop and mobile is blurred. Using the same codebase Maui Apps provide users with one app for multiple form factors. Accomplish in a few lines what would otherwise take hundreds, from concept to the end user's screen — the fastest way to create convergent apps.
Cross-platform
Components ready to easily use and that work on Android and Linux
Convergent
Easily create applications that work in mobile devices and desktop computers.
Built with Kirigami
MauiKit is built using KDE Kirigami framework and Qt Quick Controls 2.
The fastest way to develop beautiful desktop and mobile apps
Experience streamlined development with zero-time setup, using the technologies you already know and love – Qt, QML and C++.
Brilliant look and feel with lots of ready-to-use components and styling
A rich variety of UI components specially designed for mobile and desktop apps. MauiKit provides tons of elements. They all have Linux and Android support. With MauiKit you can genuinely support both Android and Linux with the same source code.
Securing your desktop and workstation.
https://github.com/nx-desktop/nx-firewall
NX Firewall is a firewall tool for Linux uses the Qt toolkit. You can use the wizard to create a basic firewall, then streamline it further using the dynamic rules. You can open and close ports with a few clicks, or monitor your services giving access only to a select few. NX Firewall is an open source application that provides users with a graphical user interface (GUI) for the ufw (Uncomplicated Firewall)/iptables command-line interface, which lets users manage Linux kernel's packet filtering system.
Key features include the ability to use profiles, quickly enable or disable the firewall, easily set incoming and outgoing rules and view which applications are listening on which ports, as well as to effortlessly add or remove rules. With a single click of a button, users will be able to enable or disable the firewall as well as to set incoming and outgoing rules (Allow, Deny, Reject). It is also possible to easily create rules as well as to add simple or advanced firewall rules, where you can set default policy, category, subcategory and application.
Under the hood, the software is written entirely in the C++ programming language. However, its graphical user interface is written using the QML GUI toolkit. It is available as a KCM for the Plasma 5 desktop environment.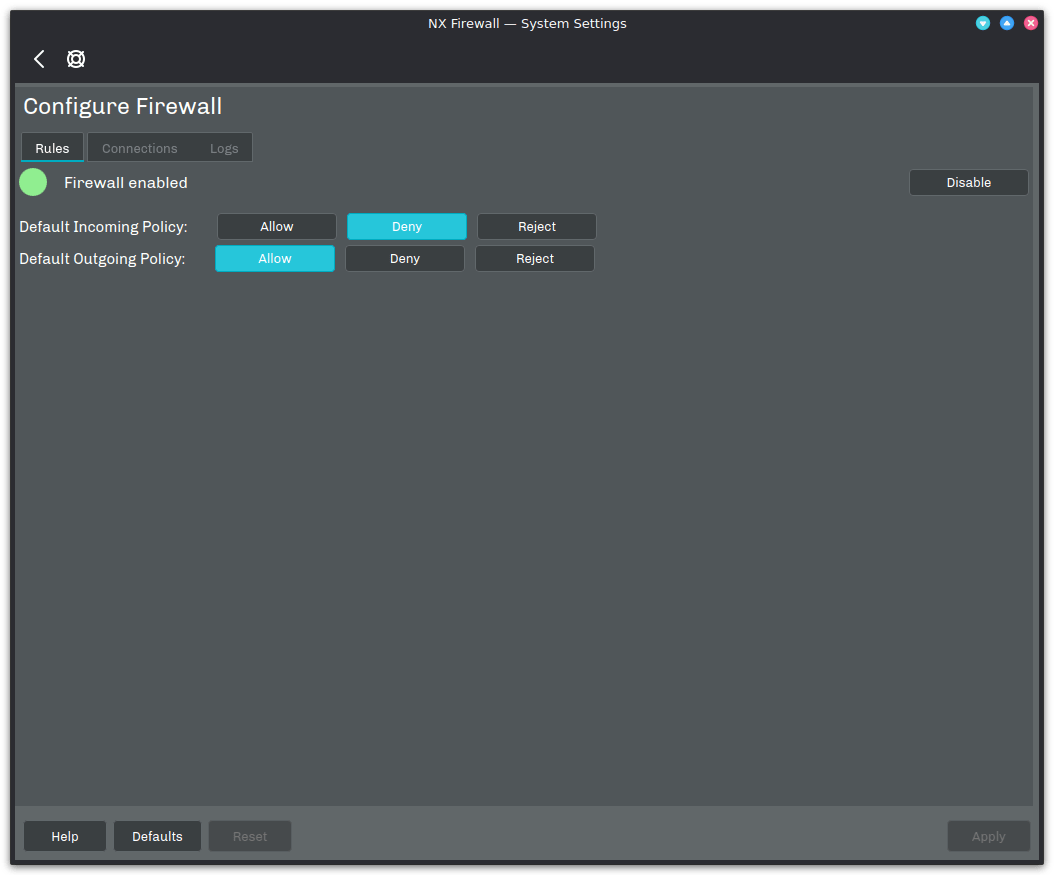 Automate version and backup sync of your files.
Kup is created for helping people to keep up-to-date backups of their files. Connecting a USB drive is the primary supported way to store data, but saving files to a server over a network connection is also possible for advanced users.
A detailed list of features
Backup types:

Synchronized folders with the use of "rsync."
Incremental backup archive with the use of "bup."

Backup destinations:

Local filesystem monitored for availability. That means you can set a destination folder which only exists when perhaps a network shared drive is mounted, and Kup will detect when it becomes available.
External storage, like USB hard drives. Also monitored for availability.

Schedules:

Manual only (triggered from tray icon popup menu)
Interval (suggests new backup after some time has passed since the last backup)
Usage-based (suggests new backup after you have been active on your computer for some hours since the previous backup).
In general Kup tries to not disturb you needlessly.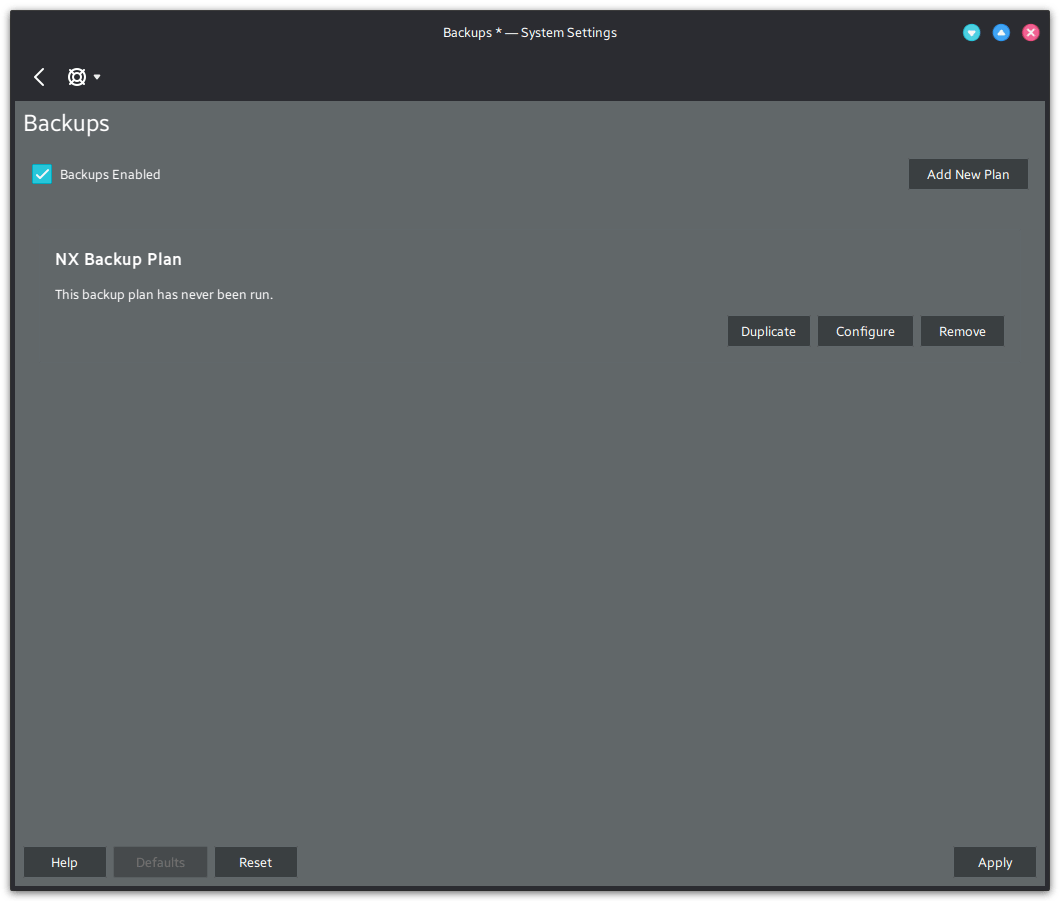 Explore a universe of apps in Nitrux with AppImage.
https://appimagehub.com/
AppImage provides a way for upstream developers to offer "native" binaries for Linux users just the same way they could do for other operating systems. It allows packaging applications for any common Linux based operating system, e.g., Ubuntu, Debian, OpenSUSE, RHEL, CentOS, Fedora, etc. AppImages come with all dependencies that cannot be assumed to be part of each target system in a recent enough version and will run on most Linux distributions without further modifications.
By bundling your application as an AppImage, you can provide an official download for Linux like you would for Windows and macOS where you can the author control the end-to-end user experience with no intermediaries between you and the author and your end user With just one AppImage you can reach users of most Linux distributions. You can provide new download links as often as you like, e.g., for each continuous build.
Also, doing an AppImage has these advantages:
Just one format for all major distributions.
Works out of the box, no installation of runtimes needed.
No root needed.
One app = one file = super simple for users.
Desktop integration with appimaged.
Binary delta updates, e.g., for continuous builds (only download the binary diff) using AppImageUpdate.
Can GPG2-sign your AppImages (inside the file).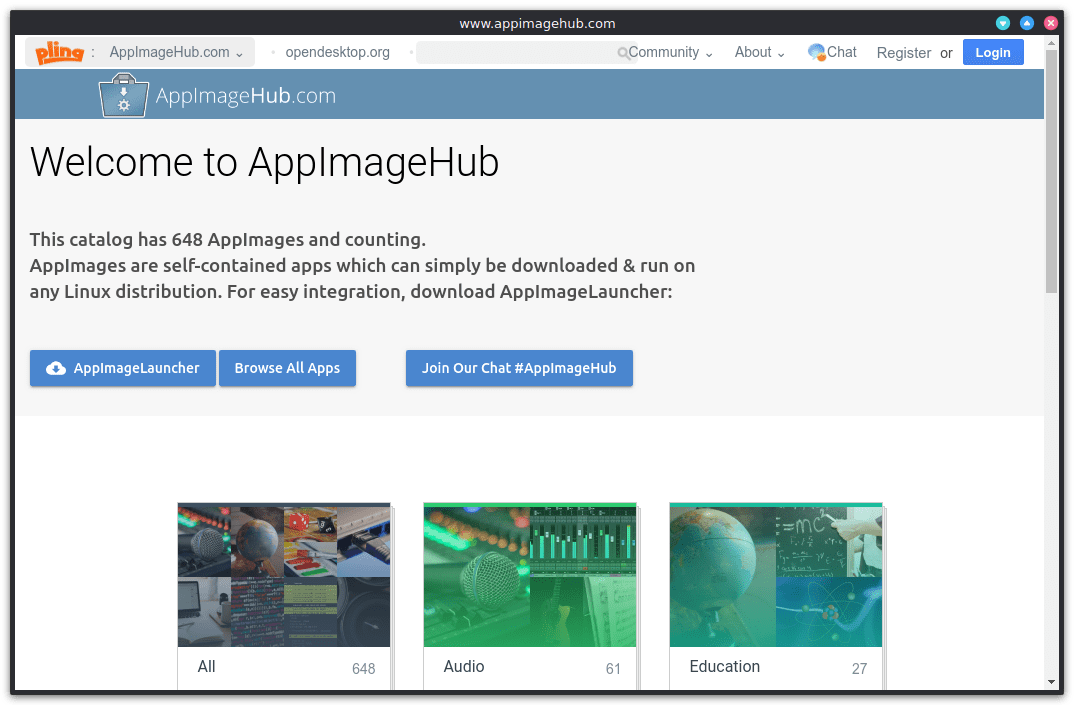 Get your game on with itch.io, an open marketplace for digital creators.
itch.io is an open marketplace for independent digital creators with a focus on independent video games. It's a platform that enables anyone to sell the content they've created. As a seller you're in charge of how it's done: you set the price, you run sales, and you design your pages. It's never necessary to get votes, likes, or follows to get your content approved, and you can make changes to how you distribute your work as frequently as you like.
itch.io is also a collection of some of the most unique, interesting, and independent creations you'll find on the web. We're not your typical digital storefront, with a wide range of both paid and free content, we encourage you to look around and see what you find.
itch.io gives creators the tools to make smart choices about how they distribute their content. Creators have access to detailed analytics and about how people discover, download, or play what they've created.
Why was itch.io made?
itch.io was made to give game developers a marketplace where they get to control how their content is sold. Check out this blog post: Introducing itch.io.
Why buy on itch.io?
itch.io allows sellers to set their own revenue share: we call that

open revenue sharing

– that makes it one of the best place to support your favorite creators.
Most itch.io releases come with DRM-free builds along with extra keys, when the game is also available on Steam.
Simply, there's a lot of content on itch.io you will find nowhere else!
With an itch.io account, you can follow any creator, and it'll appear in your feed. There you'll find things like new projects, updates, new uploads, ratings, etc.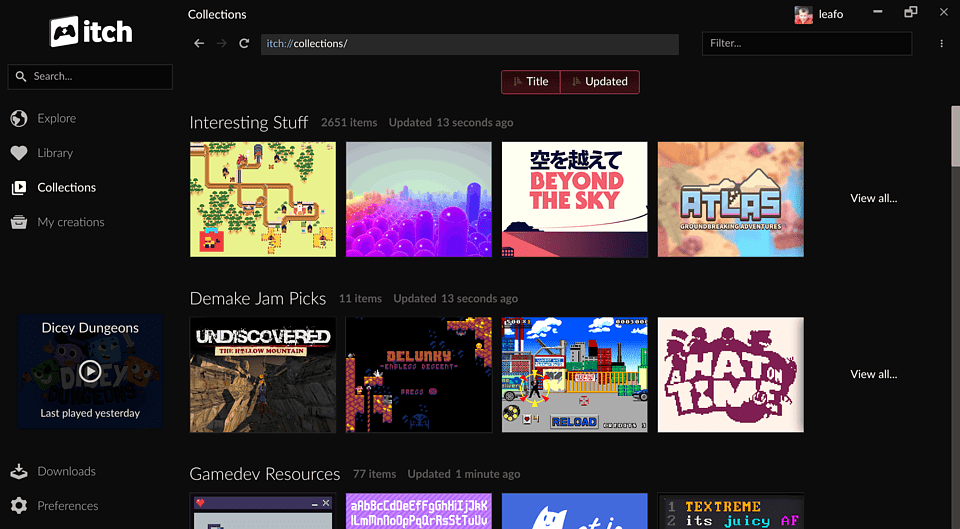 © 2017-2021 Some Rights Reserved. Made with ♥ by Nitrux Latinoamericana S.C.
Any trademarks or logos used on this site are the property of their respective owners.
Check our Privacy Policy for more information about your data.